CBDC Manifesto: Design Recommendations for a retail CBDC
by Digital Euro Association on Oct 12, 2022 3:00:00 PM
On October 12th, the Digital Euro Association (DEA) and the CBDC Think Tank (CBDC TT) announced the CBDC Manifesto at the CBDC Summit 2022 in Washington D.C. The document was developed by the DEA, the CBDC TT, and world-leading CBDC experts.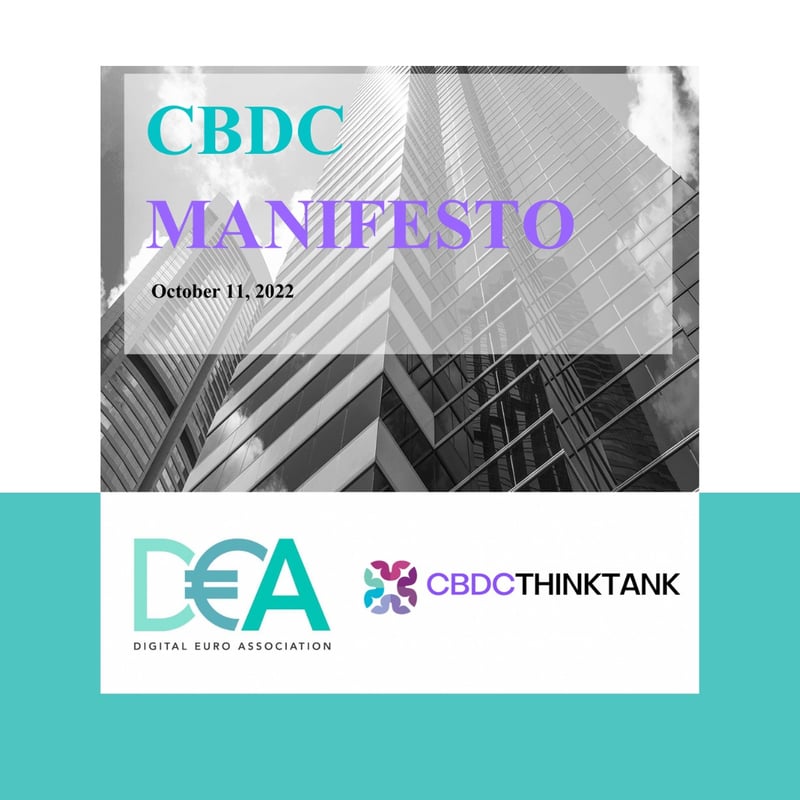 Given the critical role of CBDC in the payments space and its potential impacts on other parts of the economy, the CBDC Manifesto proposes 5 major CBDC design recommendations, which can be used as a roadmap by central banks to devise an optimal CBDC development plan. Besides the one-page recommendation, there is supporting documentation that explains each guidance in detail.
The 5 CBDC design recommendations are:
1. A CBDC should have a strong value proposition (SVP) and tangible benefits for citizens. To drive adoption, it is not sufficient to offer a new means of payment that has the same features as today's means of payment.
2. A CBDC should provide the highest degree of privacy. In this context, a CBDC should supply technically guaranteed privacy by design and by default, without the need to trust the central bank to preserve privacy. The CBDC can be utilized, ideally, by anonymous payments for small- and medium-sized transactions.
3. A CBDC should not be designed in a way to do harm to society, e.g., via very negative interest rates, or via so-called programmable money that restricts the use of money for specific types of expenditures (e.g., special food and beverages, computer games, etc.) or that expires after a certain amount of time. A CBDC should be based on principles of self-determination and freedom.
4. The development of a CBDC should follow a collaborative approach involving all stakeholders (central banks, financial institutions, associations, end-users, companies, researchers, etc.) and have a well-defined governance system. The design and development processes should be transparent, public, and open. Ideally, a CBDC should be open-source and use open-source technology to increase transparency.
5. The CBDC should exhibit technical, regulatory and usage interoperability, both locally and globally.
The CBDC Manifesto is supported by individuals and organizations across the globe, who are in favor of a citizen-centric solution. Please sign the list here if you also want to support this initiative.
Find here the CBDC Manifesto.
Supporters
The people who support this initiative are listed below. If you also want to support this initiative and appear on the following list, please click here. Even after the publication date of this article, it is possible to support this initiative and to be included in the list of supporters below, which is updated regularly:
Dr. Aart Korteweg
Abel Borghuis
Achim Braunsteffer
Dr. Achim E. H. Wolf, Innovation A
Ad Verdiesen
Adam Retkes, CBDC Think Tank Budapest
Adeolu Fadele, Cryptography Development Initiative in Nigeria
Dr. Adriana Carotenuto
Ainur Kenzhayeva, PFTDC of the National Bank of Kazakhstan
Ajibola Soyoye
Akira Sasaki
Akshay Kurhekar
Alex Smith
Alexander Gloy, Lighthouse Investment Management
Alexander Korte, MVJ Vermögensverwaltung GMBH
Dr. Alexander Rad
Prof. Dr. Alfredo Muñoz
Alyssa Ong
Amnon Samid, BitMint
Andre Costa, Free Enterprise Advisors
André Kießling
Andreas Ebner, GFT Technologies SE
Dr. Andreas Gmuender, Scenic Swisscoast
Andreas Hartauer
Dr. Andreas (Andy) Jobst, Roxe Inc.
Andrew Wright, Thomas Murray
Animesh Ghosh, KornChain
Anita Dickson
Anitha Ramaswamy
Anthony Smith
Antonio Lanotte
Antony Welfare
Aparajita Roy, KornChain London
Arpit Singh
Ashot Bychkov
Balaji Natarajan
Barbara Baldwin, InnoValue
Barbara Cleve
Dr. Benedikt Zoller, ZHAW
Benjamin Schellinger, Branch Business & Information Systems Engineering of the Fraunhofer FIT
Benjamin Schmid, First Coin GmbH
Bernardo Stegmaier, Bitpanda
Bernhard Kaufmann
Bert Bosman, Step Forward Consultancy
Binur Zhalenov, PFTDC of the National Bank of Kazakhstan
Dr. Bradley Shaw, charlestonX
Brian Becerra Rojas, 21MBulls
Prof. Carl Pitchford, ESTICE International Management School - Lille
Carmen Calhoun, CC's Industries LLC
Carola Stirler
Chela Chen
Chris Bruppacher, Swiss Stablecoin AG
Chris Douma
Christian Pfister
Cizar Bachir Brahim, SWNGLOBAL- MetaMUI
Clark Parsons, Internet Economy Foundation
Clemens Behrend
Conrad Kraft
Damian Szkudlarek, hoopbit Damian Szkudlarek
Daniel Alkan, Severn Consultancy
Daniel Dilworth
Daniel Holk
Daniel Stahl, Cryp2D GmbH
Daniel Zommer
Dániel Szegő
Dr. David Tercero-Lucas
DCA Vlag
Dercio Frade
Prof. Dr. Deyan Radev, Sofia University
Diego Montes Serralde
Diego Rodríguez, Kyron records
Dieter Emmer
Dirk Braun
Dmitry Ouzkikh
Dominik Merz
Edgar Koning
Ellen Onrust
Ellen van der Bliek
Ellis van Baalen
Else van de Venne
Eron Mamudi
Erwin Poeze
Esosa Orhue, E-Warehouse Consulting
Ester Korbee
Esther Das
Eugenio Reggianini
Eva Veldhoen
F. Altenburg, Ons Geld
Felix Bekemeier
Fernando L. B. Marques, University of Sao Paulo
Dr. Filipe Ferreira
Francesco Mazzetti
Francis Souza, ACI Worldwide
Frans Sikking
Frédéric Tronnier
Ganesh Shetti, 3si technologies
Gann-Jiun Lin, Aimichia Technology., CO., LTD.
Georg Lanzinger
Dr. Gerald Hessenberger
Gerrit Van Malkenhorst, Stichting Ons Geld (Our Money Foundation)
Dr. Gianluca D'Imperio
Gideon Wiersma
Gijs Van der Veur
Gonzalo Davalos, 21MBulls
Gourav Roy, BCG
Gurinder Dua
Hamit Boyraz, Finwise Consulting
Hamza Mohammed Ali
HE Leever
Heidi Leenaarts, United Economy
Helen Hooijschuur
Helena de Boer
Hendrik Tuinstra, Renderklippenweg 7
Henne van Beveren
Hill Scholte
Prof. Dr. Horst Treiblmaier
Ian Gerstgrasser, DERA
Ilse van Kleef
Ina Ngina
Ineke Luberti
Dr. Ivan Homoliak, Faculty of Information Technology, Brno University of Technology
Iván Manso Arenal, Accenture
Iwan Van Noort
J.P. Nolan
Jaap van der Sijp
Jack Veldman, ARCHEON
Jafar Mussaid, Nuqud
Jan Lammerts
Jan Spörer
Janet Sinclair
Jannah Patchay
Janny Van Doesburg
Jaskaran Singh
Dr. Javier Jorge Vázquez, Catholic University of Ávila
Jeremi Van den Berghe
Jeroen Gerats, GymForum.nl
JJ Goossens
Johan Bogmans
Johan Pot
Johan Welling
Johan Zijlstra
Johannes Sedlmeir
John Kiff, CBDC Think Tank
John van Duursen
Dr. Jonas Gross
Dr. Joost Smitskamp
José Zárate, Stamping.io
Kamlesh Nagware
Katarina Mattmuller
Khang Vu Tien
Khusboo Gupta, IIT Delhi
Dr. Kimmo Soramaki, FNA
Dr. Kombe Kaponda, Bank of Zambia
Kseniia Massant, Ibef SA
Laurens van Dijk, Exin bv
Lea Vries
Lena Grale
Lennart Schuldt
Linda Dudek
Luca Scheibinger
Luitpold Deutzer
Lukas Kress
Lukasz Jakubczak
Luki Song, FirstBank
Mahmoud Jawwad, Nova Blockchain Club
Makis Malioris
Marcel Knobloch
Marcha Vander Bie
Marek Łyjak
Marian Mudder, MM -A-W-C
Marianne Haspels
Mariano Camere Echevarría, 21MBulls
Mario Martínez Lorenzo
Marja Brand
Marjolein Bolhuis
Mark Allin
Mark Jansen
Mark Janssen
Dr. Mark Yama Tampuri Jnr
Marleen Van Steen
Dr. Martijn van der Linden, The Hague University of Applied Sciences
Martin Debusmann
Martin van Lier
Dr. Maurits Hooiveld
Mees Zijlstra
Melvina Markmann
Dr. Michael Gebert, European Blockchain Association
Mickaël Gaborit, Blooo
Nadine Kanaan
Dr. Nathalie Launay
Navin Oswal
Neo Lin, Qianyuhui International Environmental Investment
Neslihan Ozkan
Néstor Campos, PeerPay
Dr. Nicola Davolio, Hupry
Niels Leerentveld
Nirinasoa Rajaona
Oliver Naegele
Omar Kerschbamer
Onno van der Straaten, OnKnows.com
P. Leijten, Hi-tap
Pallavi Thakur
Pascal Kaiser
Patricia Suárez, ASUFIN
Patrick van Asbroeck
Paul Hulsman
Paul McOlaka
Paul Oord
Peter Bouwman
Dr. Peter Dittus
Peter Schepens
Dr. Peter Slivka, Zota Payment Technologies AG
Phil Haunhorst, Obius
Philipp Misura
Prof. Dr. Philipp Sandner, Frankfurt School Blockchain Center
Pier Mario Lupinu
Piet Oldenhof, alpino auto enschede
Piort Naw
Piotr Tatarczyk
Prakash Neupane, Exploreby Technology
Dr. Puck Groningen, van
Rajib Ghosh, KornChain Limited
Raphael Sperling, Tax Sparrow
René Balvers
René Verwoerd
Richard Smit, Smit Finance
Richard Turrin
Richard Weals, Learn Trade Transform Ltd
Rick Clephas
Ridwan Badmus
Dr. Ritesh Jain, Infynit / Former COO HSBC
Rob Hendriks
Robert Colijn
Robert Svarc
Roberto Pagliari
Dr. Roberto Sisto
Roberto Wächtler
Rosita Sikking-Reeberg
Dr. Rudi Moezel, MMC
Rungrot Tatiyawongwiwat
Dr. Samuel De Gannes, De Gannes Technolgies Inc.
Sandro Stoffers
Sarah Palurovic
Sascha Braband
Sathyanarayanan Sridharan
Selin Sezer
Prof. Dr. Sergio Luis Náñez Alonso, Dekis Research Group
Dr. Shayne Heffernan, KXCO
Sheilla Olga, INATBA
Simon Soppart
Sophie Aurelly Ngouakang Tchinda, Tchinsop law firm, Douala-Cameroon
Srihari Sridharan
Srikanth Tanniru
Stavros Goulas
Stephan Dreyer
Dr. Stephan Simon
Steve Wallace
Sunny Jiang, MaasValley
Suzan Bosch
Dr. Talha Ocal
Tamara Ferreira Schmidt
Tan Gürpinar, Blockchain Europe
Tatiana Matersheva-Indlekofer
Tessel Goede, Nvt
Thomas Michalski, Infineon Technologies
Tilemachos Angelitsas, Omnis Engineering Services PC
Dr. Tim Schulteis
Timo Boland, Stichtingtechnotrend
Tom Dapp, KfW Digital Office
Tomasz Wawron
Tomaž Fleischman
Tommy Cooksey
Ubasinachi Nkume, Clplegal
Valentin Seehausen, Open Currency Technology
Valeria Aragonés Díaz
Dr. Victor Muñoz, BRIGHT NFT
Vid Hribar, RBI AG
Vidyashankar Ramalingam
Vito Domizio
Wieger Janse
Winke Goede
Xavier Arias Seguí
Xavier Lavayssière, ECAN
Yan Zhao
Yvonne van Donk
Zvinodashe Mupambirei
Do you think your name should appear here?
These are the supporters up until 2023–09–25 11:17 CEST. Do you agree with these recommendations and do you want to support this initiative? Then, please click here.